From 14th May to 31st May, our WALTA President, Dr Augusto Zimmermann (Professor of Law, Sheridan College), was visiting Brazil for a series of commitments, including special participation as a keynote speaker in the 2nd Forum Federalista Nacional (National Federalist Forum), held in the city of Curitiba between 29th May to 31st May.
ITALO-BRASILEIRO
On 21st May, Dr Zimmermann was greeted at the Centro Universitario Italo-Brasileiro by their Law Dean, Marcello Grimone, the founders of the Instituto Federalista, and the Founder of the Movimento Avança Brasil, Mr Willian Bull.
Mr Bull conducted an interview with Dr Zimmermann about the importance of the rule of law as a guarantor of individual rights and freedoms. In this interview Dr Zimmermann also discussed, among other issues, whether Brazilians really live in a society where government is placed under the law, and whether the country has a democratic system that really protects freedom of expression.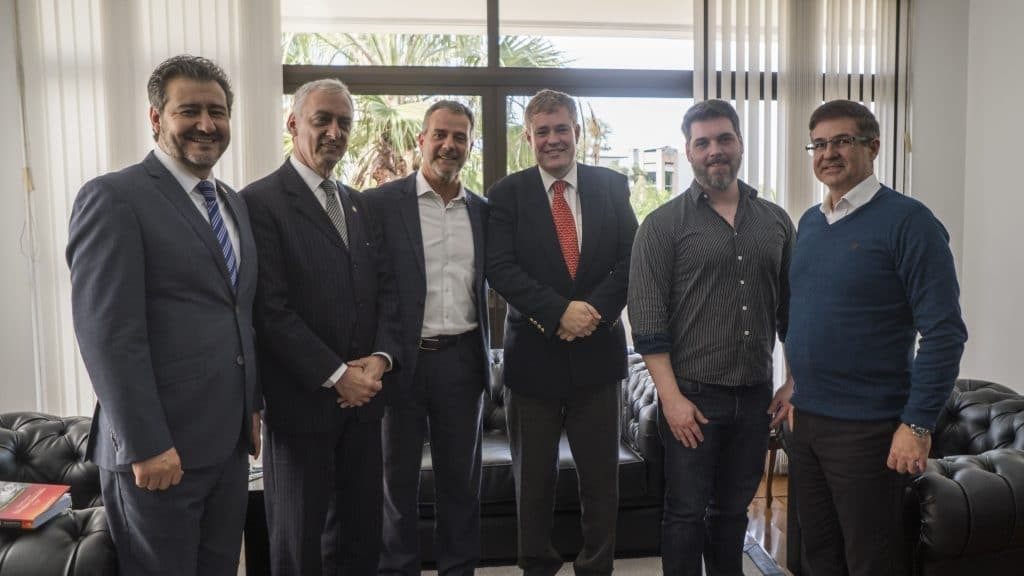 BURKE INSTITUTO CONSERVADOR
On 22nd May, Dr Zimmermann was in Sao Jose dos Campos visiting the Instituto Burke Conservador – a conservative think-tank named after the Anglo-Irish statesman Edmund Burke. There he participated in an interview for Burke Cafe – a talk show hosted by Wagner Lima that discusses contemporary issues from an unashamedly conservative perspective.
After that interview Dr Zimmermann addressed members of the Institute on the topic based on his recent 3-volume collection published in Australia on "The Christian Foundations of the Common Law". Dr Zimmermann was very well received and was delighted to be acquainted with the excellent work carried out by this influential think-tank.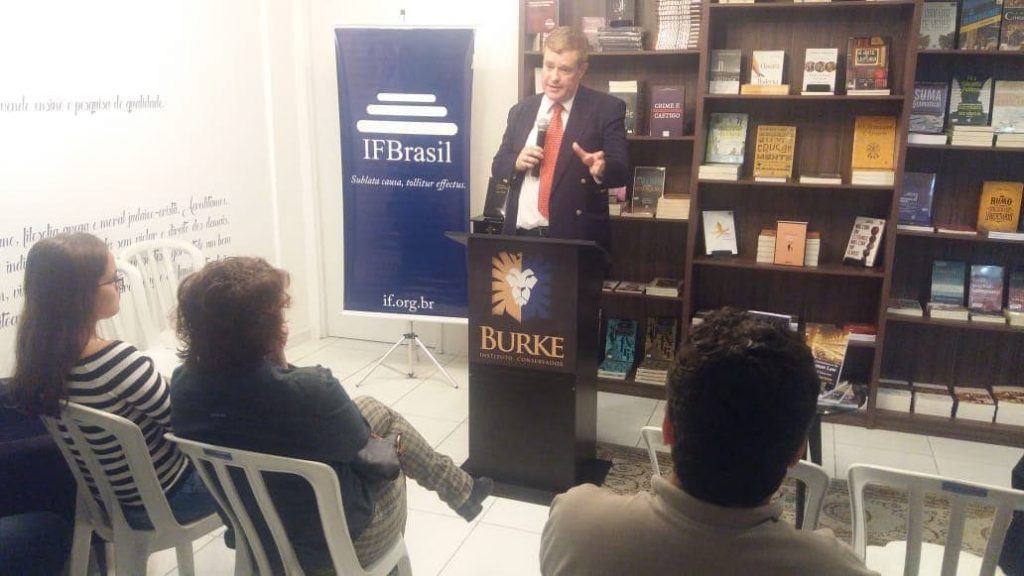 LIGA CRISTÃ MUNDIAL
According to a seminal report commissioned by the British Foreign Secretary, millions of Christians in Muslim-majority countries have been killed, kidnapped and imprisoned. The official report provides evidence of high levels of Christophobic discrimination across Muslim-majority south-east Asia, sub-Saharan Africa and in East Asia – often driven by Islamic governments.
In this sense, it was a pleasure for Dr Zimmermann to visit the Liga Cristã Mundial (World Christian League) – LCM in Sao Paulo on 23rd May. The LCM was founded about 16 years ago by Mr Iskandar Riachi, a militia Lebanese Christian who left his native country to live in Brazil together with his family.
Ever since, Mr Riachi has been courageously warning Brazilians about the dangers of Islamisation in the country. Accordingly, the World Christian League has been constituted in order to protect Christians around the world, denouncing Islamisation and pointing out to the causes of the extermination of Christians by Islamic terrorist groups such as the Islamic State (ISIS), Boko Haram, Al Qaeda, the Taliban and other Islamic organisations.
The topic of Dr Zimmermann's talk was 'The War on Christians in the Islamic World'. He reminded that a century ago Christians comprised 20 percent of the Middle Eastern population. Today, they are less than 4 per cent. Meanwhile, told Dr Zimmermann, Western governments in countries like Australia are doing absolutely nothing to protect Christians from ongoing genocide in these Muslim countries across the globe.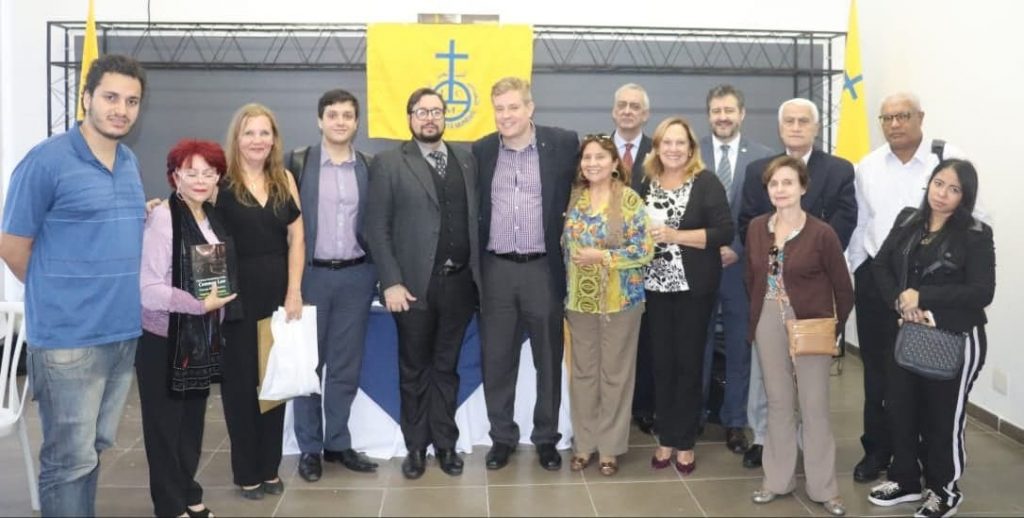 UNIANDRADE
On 23rd May, Dr Zimmermann spoke at the Centro Universitário Campos de Andrade in the city of Curitiba. He delivered a special lecture to more than 200 law students upon the invitation of Professor Rafael Baggio Berbicz, Dean of the School of Law.
Dr Zimmermann was warmly received by these law students and the legal academic community as "a great expert on federalism and one of the greatest experts on the principle of subsidiarity".
Dr Zimmermann's topic in that university was: "Is Brazil a federalist country? A Legal-Constitutional Approach". Unfortunately, he was forced to answer this question in the negative because the Federal Constitution of Brazil is a highly centralist document.
According to Dr Zimmermann, the supremacy of the central government in Brazil is so dramatically manifested that the very idea of any legislative power being reserved to the Brazilian states has been rendered entirely meaningless and irrelevant.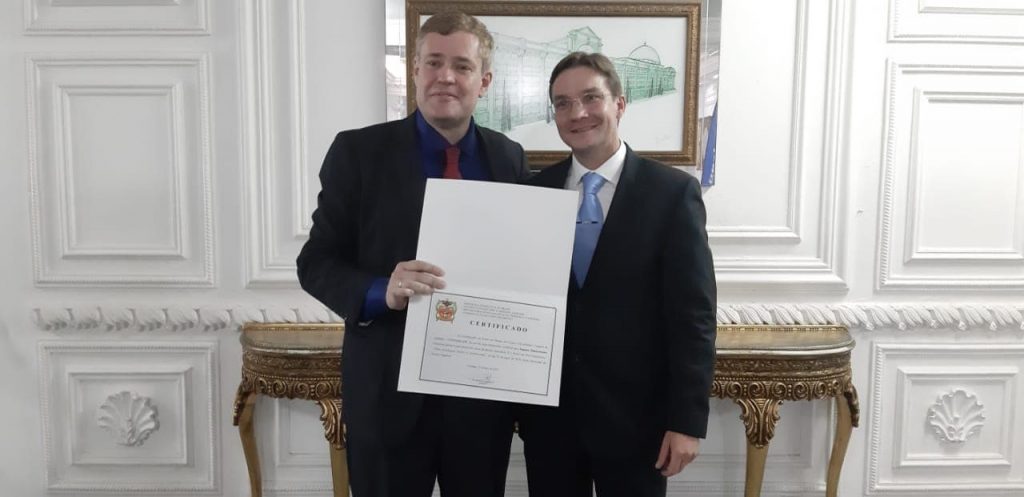 INSTITUTO FEDERALISTA
Dr Zimmermann was delighted to be a keynote speaker for the 2nd Forum Federalista Nacional (National Federalist Forum) held in Curitiba between 29-31 May.
The event organiser, the Instituto Federalista do Brasil (The Federalist Institute of Brazil), was founded in 2005 by Mr Thomas R. Korontai and other committed federalists who aspire to a substantial transformation of their society through a democratic change in the structure of the Brazilian federal state.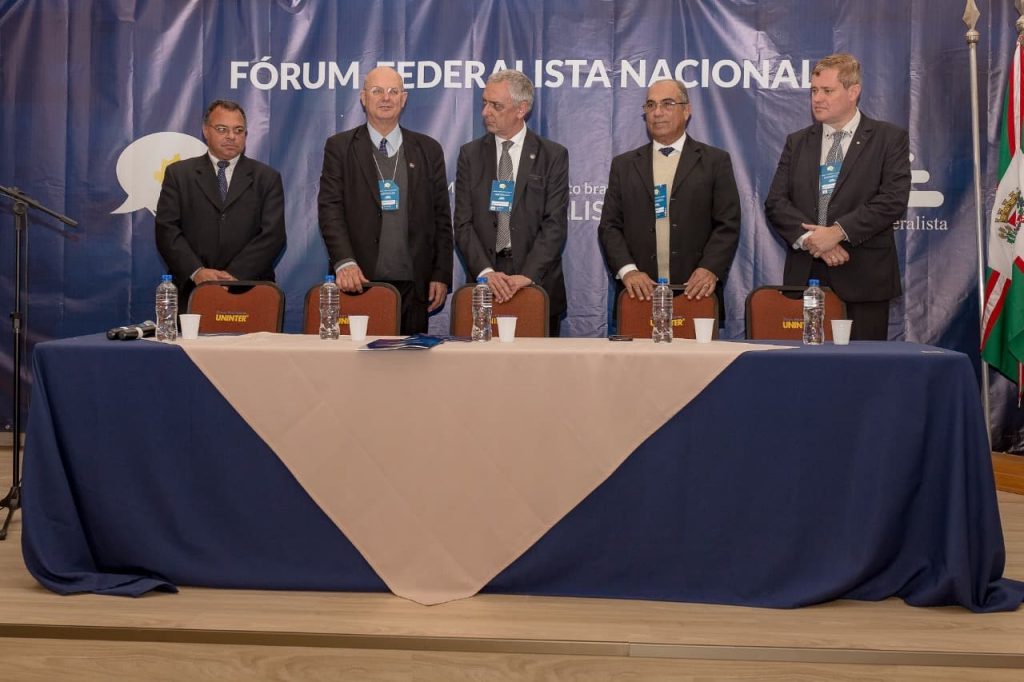 Dr Zimmermann is the author of numerous articles and books on the subject of Brazilian constitutional law. First published in the 1990s, his book on democratic federalism is still considered the seminal work on the subject in that country. Some of his books published in Brazil include:
– Direito Constitucional Brasileiro – Tome I (Rio de Janeiro/RJ: Lumen Juris, 2014), 1-510 pp– ISBN 978-85-675-9505-4 – with Dr Fábio Condeixa.
– Direito Constitucional Brasileiro – Tome II (Rio de Janeiro/RJ: Lumen Juris, 2014), 525-1000 pp – ISBN 978-85-675-9505-4 – with Dr Fábio Condeixa.
– Curso de Direito Constitucional (4th edition, Rio de Janeiro: Lumen Juris, 2006), xxx + 788 pp – ISBN 85-7387-256-X.
– Teoria Geral do Federalismo Democrático (2nd edition, Rio de Janeiro: Lumen Juris, 2005), xxi + 405 pp. – ISBN 85-7387-070-2
Dr Zimmermann's doctoral thesis (PhD) at Monash University is precisely about the insufficient realisation of the rule of law in Brazil. Entitled 'Waiting for the Rule of Law: Legal and Extra-Legal Obstacles for the Realisation of the Rule of Law in Brazil' (Monash University, Faculty of Law, 2006), this thesis provides a broad account of the manifold deficiencies in the implementation of the rule of law in Brazil, offering both legal and extra-legal explanations for this.
Dr Zimmermann takes all these successful commitments as an acknowledgement of his academic contributions in Brazil. He takes this very humbly and sees all these events and media interviews as a recognition of his efforts over the years to promote the ideals of democratic federalism, the rule of law, limited government, and individual rights in that important economic powerhouse in South America, indeed the world's ninth largest economy by nominal GDP and eighth largest by purchasing power parity.