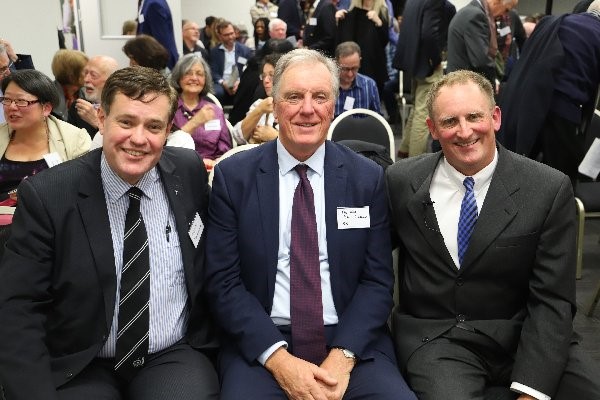 Last weekend, over 100 people, including partners at some of the best law firms located in Western Australia and other jurisdictions, attended the sold out conference called 'Religious Freedom at the Crossroads: The Rise of Anti-Christian Sentiment in the West'. By all accounts the conference was a resounding success and, in numerous aspects, like no other that has ever been held in this country.
This was clearly not just another legal conference. The list of conference speakers was rather impressive and it included some of our nation's finest legal minds. Participating as moderator was the Hon. John Gilmour QC, a renowned barrister and former Australian federal judge. Some of the most distinguished members, both past and present, of the Western Australian Parliament, including former speaker Michael Sutherland, were also moderators for this deeply significant event.
The Patron for this truly historical conference was no other than The Hon John Winston Howard, OM, AC, who served as the 25th Prime Minister of Australia from 1996 to 2007. He is the second-longest serving Australian Prime Minister, behind only Sir Robert Menzies, who was in office for over 18 years. In his address to the conference, Mr Howard reminded us that 'this is the time for all Australians who believe in the fundamental right of religious freedom to speak out in favour of steps being taken … to ensure the freedoms we have always taken from granted are preserved'.
Being a renowned advocate of religious freedom as a fundamental right of the individual, Howard has called on the government to deal with the issue of protection of religious freedom. He believes that key threats to freedom of speech and political institutions posed by identity politics and social fragmentation have become a global phenomenon. He cites the 2017 debate over same-sex marriage, and the ­ongoing discussion about protection of religious freedoms as a key example of a more ideological and divisive politics currently affecting national politics.
The keynote speaker was a leading American constitutional lawyer – the Distinguished Professor Emeritus William Wagner of Western Michigan University, Thomas Cooley Law School. His public service includes serving as a Federal judge in the United States Courts, legal counsel in the U.S. Senate, senior United States attorney in the Department of Justice, and as an American diplomat.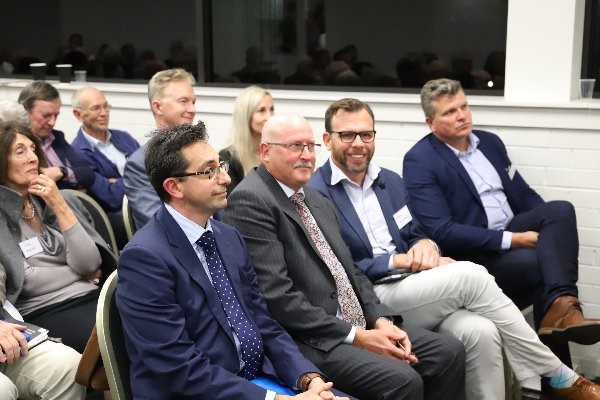 Professor Wagner has a special interest in building and preserving environments where Christian people may share the Gospel free from persecution and oppression. In his presentation, he analysed the proper scope of the judicial power. Along the way he reviewed competing approaches judges use to interpret constitutional and statutory provisions. Professor Wagner then analysed how these approaches impact governance and the rule of law differently. With powerful examples, he demonstrated how the proper approach to legal interpretation can lead to good governance under the rule of law, while revisionist approaches lead to non-politically accountable judicial tyranny.
The concern is especially disquieting for Christian people when judges actively diminish liberty protecting free expression and religious conscience, while brazenly manufacturing "group rights" repugnant to our tradition of inalienable rights and freedoms of the individual. Under Professor Wagner's proposal, judges apply objective standards of the rule of law to resolve any dispute before the court, leaving it to the politically accountable branches to amend or change the literal meaning of the provision at issue.
The conference was structured as follows:
CONFERENCE DAY #1 – 14June 2019

Opening Speech – Prof Augusto Zimmermann (Sheridan College & WALTA)
Statement by The Hon John Howard OM, AC – Conference Patron
Introduction of Keynote Speaker – The Hon John Gilmour QC
Keynote Speech by Distinguished Professor Emeritus William Wagner

CONFERENCE DAY #2 – 15 June 2019

Session 1 – Moderator: The Hon Nick Goiran MLC

– Ashley Saunders (CEO, Barnabas Fund) on "Humbly Relying on the Blessings of Almighty God?"
– Patrick Byrne (President, NCC) on "Protections for Freedom of Speech and Employment Against Authoritarian Gender Identity Laws"

Session 2 – Moderator: The Hon Aaron Stonehouse MLC

– Andrea Tokaji (Lecturer, Alphacrucis College) on "Is Religious Tolerance a Strategic Solution to Persecution?"
– Johnny Sakr (PhD Researcher, USQ) on "Freedom To Offend In The Pursuit Of Truth"
– Augusto Zimmermann (President, WALTA & Professor, Sheridan College) on "The Unconstitutionality of Extending Section 18C to Religious Grounds"

Session 3 – Heath Harley-Bellemore (Vice-President, WALTA)

– Joshua Forrester (Editor, The Western Australian Jurist) on "Safe from Harm? Defending Classical Liberalism in the Culture War"
– Asha Towers (Former President, NCC Sydney) on "Preserving the Gospel in Australia in a Post-Truth World: New Political Tactics"

Session 4 – The Hon Michael Sutherland

– Tim Houweling (Director, Cornerstone Legal) on "Religious Freedom and Planning Law in Australia"
– Christopher Brohier (Barrister, Elizabeth Mews) on "The Battle for Religious Freedom in Australia: From Disciplinary Proceedings to the High Court"
– Robert Balzola (Principal Partner, Robert Balzola and Associates) on "The Practical 'Lawfare' Approach to the Defence of Religious Freedom"

Session 5 – Peter Abetz (Director, Australian Christian Lobby, WA branch)

– John Steenhof (Managing Director, HRLA) on "Bait and Switch: A reflection on the recent Sex Discrimination (Removing Discrimination Against Students) Bill 2018 and the Queer Activist playbook for attacking Religious Freedom"
– Rocco Loiacono (Senior Lecturer, Curtin Law School) on "Clubb v Edwards, Preston v Avery [2019] HCA 11: The Abortion 'Buffer Zones' Case: A Critical Appraisal"
– Steve Heathcote (WA Barrister and Solicitor) on "Law and Religion in the Israel Folau Affair"

Short Statement by Prof Augusto Zimmermann
Closing Remarks by The Hon John Gilmour QC

But why was this legal conference so important for Australia?
Religious freedom is a basic right of the individual. It recognises that everyone ought to pursue transcendent ends freely and without government coercion; something the drafters of the Australian Constitution acknowledged when writing section 116 of this fundamental document. As a right to be enjoyed by every citizen, religious freedom demands, and ultimately justifies, a considerable limitation of governmental powers.
On the other hand, limitations on the free exercise of religion can be justified in instances of grave and immediate danger to interests which the state may lawfully protect. Indeed, religious freedom is a fundamental rights within the boundaries of a democratic society based on the enjoyment of human rights and freedoms for all. Accordingly, religious freedom ought to remain 'subject to [such] limitations … as are reasonably necessary for the protection of the community and in the interests of the social order' (Justice Starke).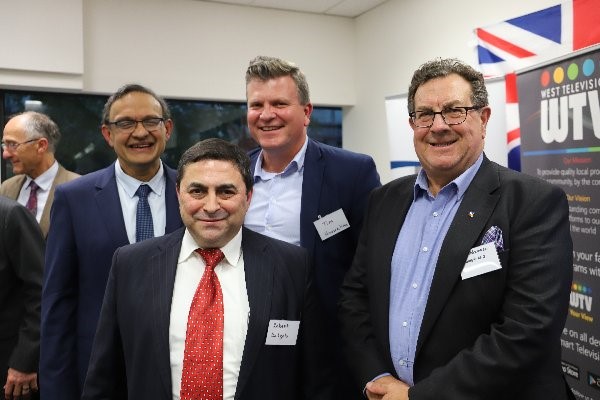 The Pew Research Centre Report, which analyses religious freedom in 198 countries and territories, reveals that Christians are the most persecuted religious group in the world today, with significant levels of persecution in 144 countries, according to 2016 data. Every month, an average 345 Christians are killed for faith-related reasons, and 105 churches and other Christian buildings are burned or attacked. Worldwide, one out of nine Christians experiences high levels of persecution.
While North Korea is rated the most dangerous country for Christians, they are also targeted by Islamic extremists in countries like Pakistan, Iran, and Nigeria – and by other communist regimes such as China, Cuba and Vietnam. Islamic oppression is behind the persecution of Christians in eight of the 10 worst countries. Their persecution is not only more prevalent in Muslim-majority countries, but it also generally occurs at a more severe level.
But is intolerance of Christians slowly creeping into 'western societies' such as Australia?
Here in Australia we see a subtle persecution of Christians. For example, if an Australian believes in the teachings of the Bible and says so publicly, he or she should be prepared to be mocked and ridiculed by many, including some of our own political leaders. And if a Christian school upholds social beliefs based on traditional Christian values, this school might be denied government funding and be accused of breaching anti-discrimination laws.
Unfortunately, there is an increasing demand from the secular left that religious expression be confined to private space and that political speech motivated by religious reasons should be affirmatively excluded from debate in the public square. Thus in Australia we have noticed an employee dismissed for her temerity in supporting traditional marriage via her private Facebook account; a rugby player being fired for posting also on Facebook a passage in Scripture; and a Christian facing criminal convictions under exclusion zone laws for a simple act of handing a piece of paper presenting the Christian perspective about the sanctity of human life.
These are only a few examples of the ongoing persecution of Australian Christians and numerous others could be given.
Because religious freedom is clearly at the crossroads in Australia, some of our finest legal minds decided to participate in a conference that manifests their strong commitment to the protection of individual rights and freedoms, before they can be further undermined by those intent on removing from Christians their inalienable rights to freedom of conscience, freedom of association, and freedom of expression.
These lawyers are legal academics and politicians who feel strongly about the growing intolerance of Christians in Australia. So they have decided to participate in the 'Religious Freedom at the Crossroads: The Rise of Anti-Christian Sentiment in Australia'. This conference extended from the evening of Friday 14 June to Saturday 15 June at Sheridan College in Perth, Western Australia.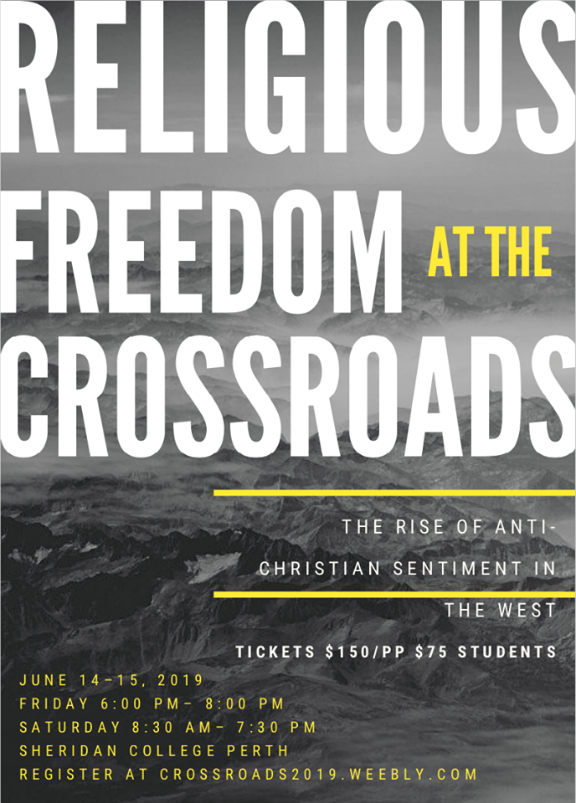 Thanks to the generous sponsorship of Cornerstone Legal and Sheridan College, this truly historical event was live streamed by the West TV (open TV, Channel 44). Conference proceedings will be published in The Western Australian Jurist law journal, the yearly blind peer-reviewed academic publication of the Western Australian Legal Theory Association (WALTA).
Apart from Sheridan College, Cornerstone Legal, West TV and our Legal Theory Association, sponsoring this event, other sponsors included the Australian Christian Lobby, National Civil Council, The Epoch Times, FamilyVoice Australia, Council for the National Interest, and Barnabas Fund.
Participants in this timely event all agree that religious freedom is a fundamental right of the individual that must be acknowledged and protected by the Australian law.
WALTA congratulates everyone involved in the organisation of this highly successful event, including our distinguished President, Dr Augusto Zimmermann, who chaired the organising committee that so competently brought about this timely and important conference.