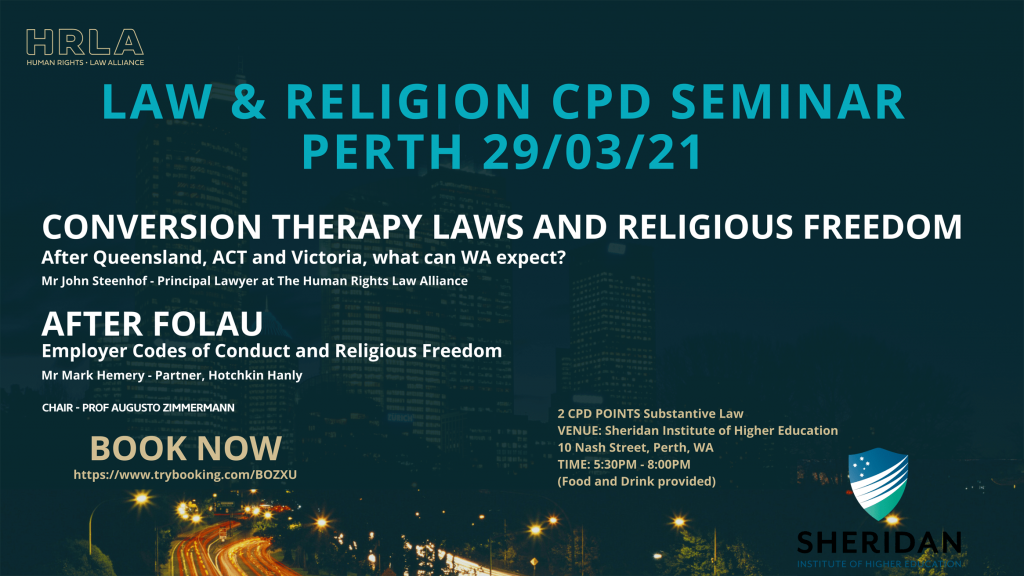 You are warmly invited for an evening discussion about emerging issues between religious freedom and the law of Western Australia.
This seminar will provide 2 CPD points for lawyers in the mandatory field of substantive law and will equip you to navigate the legal challenges arising in this field of law. Light refreshments provided.
Our speakers will discuss the recent nationwide proliferation of conversion therapy legislation as well as pressure brought to bear on religious employees through vague and restrictive codes of conduct.
WHEN: Monday 29 March 2021
TIME: 5:30 PM to 9:00 PM
WHERE: Sheridan Institute of Higher Education (10 Nash Street, Perth, Western Australia)
The night will feature presentations from:
John Steenhof – Principal Lawyer at the Human Rights Law Alliance
Mark Hemery – Partner, Hotchkin Hanly
The chair to the event is Professor Augusto Zimmermann, Head of Law at the Sheridan Institute of Higher Education.
Seminar 1:
CONVERSION THERAPY LAWS & RELIGIOUS FREEDOM
After Queensland, ACT and Victoria, what can Western Australia expect?
Presenter: Mark Hemery
Seminar 2:
AFTER FOLAU
Employer Codes of Conduct and Religious Freedom
Presenter: John Steenhof
Register for Perth using this link
You can also view the flyer here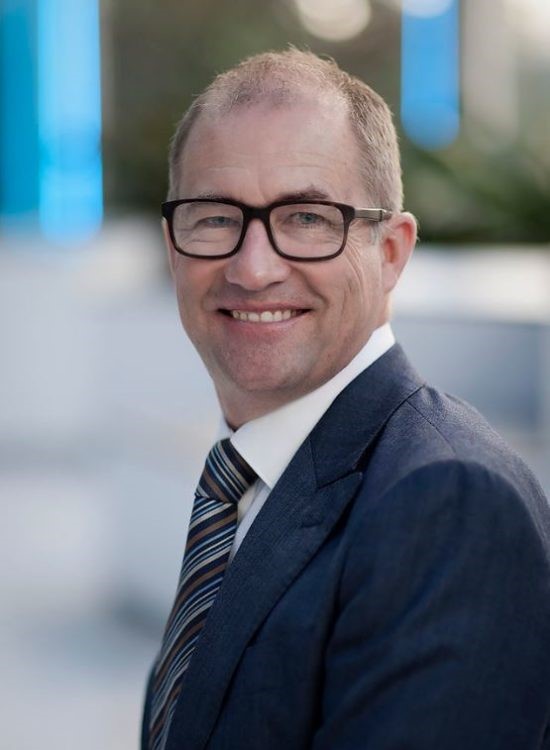 Mark Hemery was admitted to the Perth bar in 1985, and since then has practised law continuously, both in his home town of Perth and, in the 1990s, Melbourne. He is currently a partner in the Perth firm of Hotchkin Hanly. Throughout his career Mark has worked in the industrial relations and employment law fields, both as an industrial advocate with a trade union in the late 1980s, and as a lawyer, representing both employers and employees. In his current role, Mark has been recommended in Doyle's Guide as a Leading Employment Lawyer (Employee and Trade Union Representation) in WA, for 2019, 2020 and 2021. He holds a Bachelor of Laws with First Class Honours from the University of WA (1985), and a Master of Laws from the University of Melbourne (1997).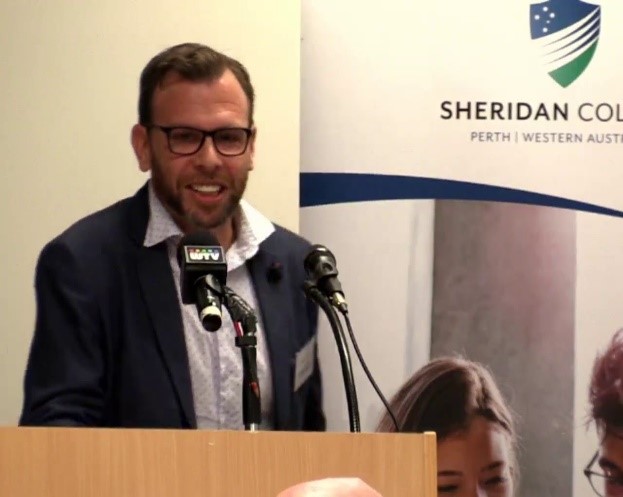 John Steenhof is the principal lawyer at the Human Rights Law Alliance, a not-for-profit law firm based in Canberra, Australia. HRLA is an independent law firm that specialises in religious freedom, and freedom of thought, speech and conscience. John has twenty years' experience working in law firms both large and small in Australia and New Zealand and most recently ran his own commercial and litigation firm in Western Australia before coming to HRLA in 2019. Since 2019, HRLA has been representing Christians, churches, schools and religious organisations to promote, protect and preserve their freedom to act in accordance with their convictions and to speak truth in the public square. HRLA regularly acts for clients in religious freedom cases, advises Christians and religious groups on how to preserve their legal rights to act in accordance with their beliefs and advocates at Federal and State level for laws that protect fundamental freedoms of religion, thought, speech and conscience.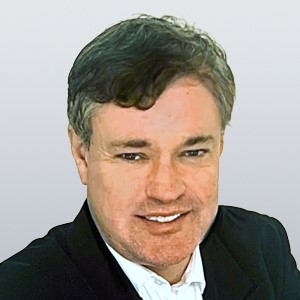 Augusto Zimmermann LLB, LLM, PhD is Professor and Dean of Law at the Sheridan Institute of Higher Education. He is also President of the Western Australian Legal Theory Association (WALTA), and formerly a Law Reform Commissioner with the Law Reform Commission of Western Australia, from 2012 – 2017. Professor Zimmermann is also the Editor-in-Chief of The Western Australian Jurist law journal, an Elected Fellow at the International Academy for the Study of the Jurisprudence of the Family, and a former Vice-President of the Australasian Society of Legal Philosophy. He was also Associate Dean of Law (Research) at Murdoch University from 2009 to 2013 and awarded that university's Vice-Chancellor's Award for Excellence in Research, in 2012, as well as two Law Dean's Research Awards, in 2010 and 2011. His books include, among numerous others, 'Western Legal Theory: History, Concepts and Perspectives' (LexisNexis, 2013) and 'Christian Foundations of the Common Law' (3 Volumes, Connor Court, 2018). A leading advocate for individual rights and the rule of law, Professor Zimmerman is considered by the Washington-based Heritage Foundation as one of the nation's 12 most influential policy makers.