You are cordially invited to attend
FINDING MEANING IN A TIME OF DESPAIR
When: Saturday, 2nd April from 2.00 pm to 5.00 pm (followed by BBQ)
Where: Good Shepherd Hall (42 Streich St, Kelmscott)
FREE ADMISSION (WITH DONATION BOX)
FINDING MEANING…
BEYOND GOVERNMENT ABUSE
IN TIMES OF TYRANNY
IN TIMES OF CHAOS
IN A SENSELESS WORLD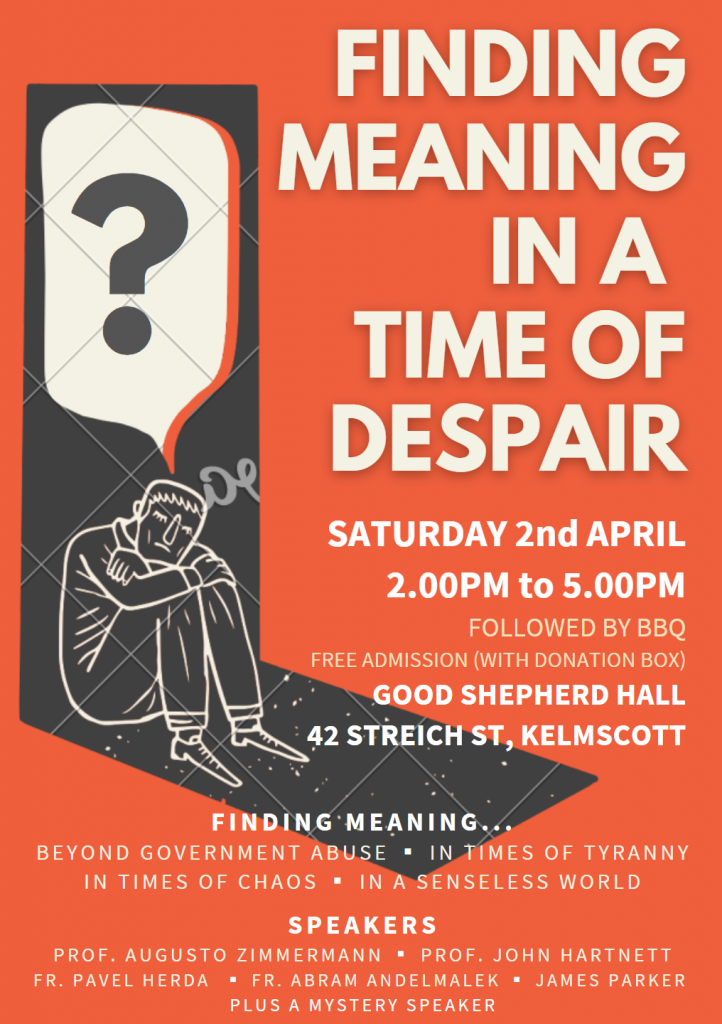 SPEAKERS
PROF. AUGUSTO ZIMMERMANN
PROF. JOHN G. HARTNETT
JAMES PARKER
REV. FR. PAVOL HERDA
FR. ABRAM ABDELMALEK
ABOUT THE SPEAKERS:
PROF. AUGUSTO ZIMMERMANN
Augusto Zimmermann PhD (Monash) is professor and head of law at Sheridan Institute of Higher Education in Perth. He is also president of the WA Legal Theory Association (WALTA) and served as a member of WA's Law Reform Commission from 2012 to 2017. Zimmermann is an adjunct professor of the University of Notre Dame Australia, and has authored/co-authored several books including 'Fundamental Rights in the Age of Covid-19' (Connor Court, 2021), 'Emergency Powers, Covid-19 Restrictions & Mandatory Vaccination—A Rule-of-Law Perspective' (Connor Court, 2022), and 'Deconstructing ScoMo: Critical Reflections on Australia's 30th Prime Minister (Locke Press, 2022).
PROF. JOHN G. HARTNETT
Dr John G. Hartnett is an Australian physicist and cosmologist. He received a B.Sc. (Hons) and Ph.D. (with distinction) in Physics from The University of Western Australia, W.A., Australia. He was an Australian Research Council (ARC) Discovery Outstanding Researcher Award (DORA) fellow at the University of Adelaide, where he was an Associate Professor. Now retired, he has published more than 200 papers in scientific journals, book chapters and conference proceedings. He maintains his own blog BibleScienceForum.com where he currently discusses all things related to the current global COVID conspiracy and what he believes are the last days as prophesied in the Book of Revelation.
JAMES PARKER
James Parker was a gay rights' activist. He now facilitates True Identity, an informal network that supports those struggling with sexuality & gender identity issues. James is passionate about the godly restoration of men and women.
REV. FR. PAVOL HERDA
Father Pavol Herda is the priest in charge of Good Shepherd Catholic Parish in Kelmscott. He comes from Slovakia AND was ordained at St Joseph's Church, Subiaco, in 2008. Fr Herda is committed to helping people in Western Australia understand the enriching messages of eternal hope given to us by Jesus Christ.
FR ABRAM ABDELMALEK
Father Abram Abdelmalek was born in Egypt and completed two degrees in Egypt in Geology and Theology. On 15 November 1996, he was ordained a priest of the Coptic Orthodox Church in 1996 by Shenouda III, the 117th Pope of Alexandria and Patriarch of the See of St. Mark. Fr Abram is currently serving a large spectrum of community groups, including some aboriginal communities in Western Australia like the Australian Aboriginal and Islander Christian Congress.