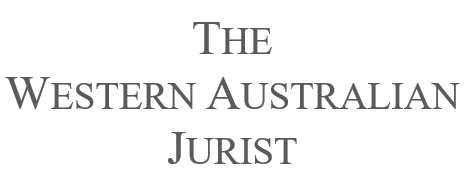 Volume 11 (2020) – Special Edition
PROTECTING FUNDAMENTAL RIGHTS
IN THE AGE OF COVID-19
CALL FOR PAPERS
The Editors of the Western Australian Jurist are now inviting submissions for their special volume, to be published in November 2020.
Beginning in late 2019, the coronavirus (COVID-19) has now been deemed a "pandemic" by the World Health Organization.

Some of the measures adopted by governments to fight the COVID-19 can have significant repercussions on fundamental freedoms, in particular freedom of movement, expression, privacy and association, both now and potentially for a very long haul.  

In addition, some of these measures are causing people to potentially endure deeply stressful and traumatic events, including job loss, financial ruin, and inadequate supplies of food and other essentials.

This special edition of The Western Australian Jurist aims to address the coronavirus crisis and its dramatic impact on fundamental rights and freedoms.

The publication will serve as a scholarly platform for legal theorists, academics, researchers, practitioners, and policy makers in various countries to discuss the legality of government measures to fight the perceived pandemic, and its impact on fundamental rights and freedoms.

ABOUT THE WESTERN AUSTRALIAN JURIST

The Western Australian Jurist is the yearly blind peer-reviewed academic publication of the Western Australian Legal Theory Association ('WALTA'). Established in 2010, the Association and its law journal are currently based at Sheridan College, an Australian Baptist higher education institute based in Perth, Western Australia.

The Editor-in-Chief of the Western Australian Jurist is Professor Augusto Zimmermann, Professor and Head of Law at Sheridan College. Dr Zimmermann was Associate Dean for Research at Murdoch Law School and is a former Law Reform Commissioner with the Law Reform Commission of Western Australia.

The Academic Editor for the publication is Joshua Forrester, the author of a leading book and numerous academic articles on the subject of freedom of speech and the implied (constitutional) freedom of political communication.

The journal's International Editorial Advisory Board is indeed rather impressive. It is comprised of the following leading legal academics:

Distinguished Professor Emeritus William Wagner, Western Michigan University, USA
Emeritus Professor Jeffrey Goldsworthy, Monash University, Australia
Emeritus Professor Gabriël A. Moens, The University of Queensland, Australia
Professor Luigi Lacchè, Università di Macerata, Italy
Professor Thomas Crofts, The University of Sydney, Australia
Professor Nicholas Aroney, The University of Queensland, Australia
Professor James Allan, The University of Queensland, Australia
Professor Gábor Hamza, Eötvös Loránd University, Hungary
Professor Ermanno Calzolaio, Università di Macerata, Italy
Professor Paulo Emilio Vauthier Borges de Macedo, State University of Rio de Janeiro, Brazil
Professor Neville Rochow SC, The University of Adelaide, Australia
Dr Grzegorz Jan Blicharz, Jagiellonian University, Poland
The Western Australian Jurist selects for publication high-quality papers on any topic related to legal theory, regardless of ideological perspectives.

The influence and success of this law journal can be testified by the vast array of distinguished names which appear in the list of contributors.

The journal is renowned for attracting high-calibre contributors who are the leaders in their respective fields. Past contributors to the journal include, inter alia:

The Honourable William Cox AC, RFD, ED, QC – Chief Justice of Tasmania (1995-2004). Governor of Tasmania (2004-2008)
Emeritus Professor Peter Boyce AO – Vice-Chancellor of Murdoch University (1985-1996).
Julian Burnside AO, QC – prominent Australian barrister, human rights and refugee advocate
Professor Michael Quinlan – Dean of Law at The University of Notre Dame Australia (Sydney)
The Honourable Nick Goiran MLC – Shadow Minister for Child Protection and Prevention of Domestic Violence, Parliament of Western Australia
See: https://walta.net.au/wajurist/

DEADLINE FOR SUBMISSION OF ARTICLE

For consideration for inclusion in the print issue of volume 11, authors should submit on or before 19th August 2020.

HOW TO SUBMIT AN ARTICLE

To submit an article for publication, visit the website of our law journal at https://walta.net.au/submit-an-article/ or email directly the Editor-in-Chief at azimmermann@sheridan.edu.au

OTHER RELEVANT INFORMATION

All articles, case notes and book reviews published in The Western Australian Jurist undertake a double blind refereeing process. The Editors endeavour to decide on whether submissions will proceed to refereeing within two weeks of receipt.

The word range for articles submitted to the Journal is 6000 to 13 000 words in length (excluding footnotes), though this is subject to the Editor's discretion. Your article must include a short abstract and all the references must be cited in accordance with the Australian Guide to Legal Citation, 4th edition.