DECONSTRUCTING SCOMO
CRITICAL REFLECTIONS ON AUSTRALIA'S 30TH PRIME MINISTER
By Rocco Loiacono PhD (UWA) & Augusto Zimmermann PhD (Monash)
Preface by James Allan – Garrick Professor of Law, University of Queensland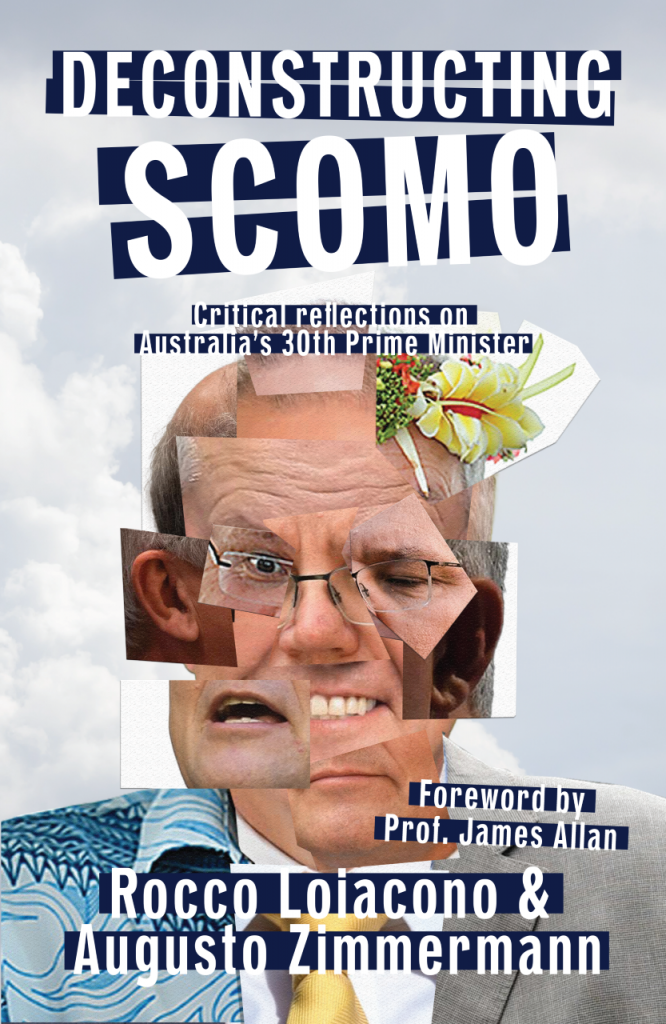 At the 2019 election many conservatives – the "quiet Australians" – went back to the Liberals, given that Malcolm Turnbull had finally been dispensed with and recalling that Scott Morrison seemed to have stopped the boats and was a regular churchgoer. Further, they were genuinely concerned about Bill Shorten's "drastic climate action". However, these same conservatives have reason to be very aggravated, and are seriously considering voting for alternative parties at the forthcoming federal election.
Why is this so?
In this book, the authors highlight the Prime Minister's abject failure to stand up for conservative values; namely, his abandonment of the principles of smaller government, economic reform, free speech and individual liberty. This book is a must read as Australians head to the polls in 2022.
"The authors have made a strong case worth reading. In these non-normal times I think our Prime Minister has been judged found wanting. So do the authors of this book."
– Professor James Allan Garrick Professor of Law University of Queensland
ROCCO LOIACONO
Rocco is a Senior Lecturer at Curtin University Law School. Rocco contributes regularly on matters concerning politics, fundamental freedoms and the rule of law in The Spectator Australia, Quadrant Online, The Epoch Times and The Australian, as well as in The Western Australian Jurist.
AUGUSTO ZIMMERMANN
Augusto is Professor and Head of Law at Sheridan Institute of Higher Education in Perth, Western Australia. He is also Adjunct Professor of Law at the University of Notre Dame Australia (Sydney Campus), the Founder and President of the Western Australian Legal Theory Association, the Founder and Editor-in-Chief of The Western Australian Jurist, an Elected Fellow at the International Academy for the Study of the Jurisprudence of the Family, and a former Law Reform Commissioner with the Law Reform Commission of Western Australia (2012-2017). He is the author/co-author/editor/co-editor of numerous academic articles and books on fundamental freedoms and the rule of law.
ENDORSEMENTS/REVIEWS
"Deconstructing ScoMo should be compulsory reading for all Australians because it documents the disturbing reality that under a supposedly conservative government, the values of Western Civilisation in Australia have been tossed aside and replaced with another set of values which are inimical to this nation.  In the short period during which Scott Morrison has been the Prime Minister of Australia, freedom of speech, equality before the law, individual sovereignty, and rationalism are out, while authoritarianism, discrimination, collectivism, a distinct lack of transparency, and complete lack of accountability amongst those who rule us, are in. In the last two years, this nation has become unrecognisable because the ruling elite has discarded the Enlightenment ideals upon which this country was founded and which made Australia a free, prosperous, civil and stable nation".

Dr Bella d'Abrera
Director, Foundations of Western Civilisation Program
Institute of Public Affairs
"Readers of all sorts will learn something from this short book. I even learned a new term: "lawfare", referring to the use of laws as instruments of warfare. The authors' frank and thoughtful discourses about racism and sexism in Australia are a breath of fresh air. Another particular highlight of the book is a well-articulated argument for why identity politics is the outgrowth of a losing ideology, and the related impossibility of securing the fundamental rights of freedom of expression, association, conscience and peaceful assembly through attempts to secure freedom from discrimination or "offence". Entertaining, informative and well-referenced, Deconstructing ScoMo is well worth the short read and a sure conversation-starter for the coffee table – especially during election season!"

Professor Gigi Foster
School of Economics, University of New South Wales
"The theme of a do-nothing government permeates this topical book, Deconstructing ScoMo: Critical Reflections on Australia's 30th Prime Minister. It is a scathing and detailed review of the performance of the Prime Minister and his Liberal government. As the federal election, likely to be held in May 2022, is looming, the book facilitates an assessment of the achievements (or lack of them) of the Coalition government during the last four years. The book focuses on the policy decisions and actions of the Prime Minister and his government, which have contributed to Australia becoming an illiberal country. Specifically, the authors ruminate on the Prime Minister's performance in several key areas, including freedom of speech and the rule of law, religious freedom, discrimination and affirmative action issues, and management of the COVID-19 pandemic. The book is treasure trove of ideas and information which people might want to consider when voting in the upcoming federal election". 

Emeritus Professor Gabriël A. Moens AM
School of Law, University of Queensland
To order your copy, click at lockepress.com/product/deconstructing-scomo/